Get your American First National Bank Debit Card today!
Your Debit card doubles as your ATM card with instant access to your funds at any ATM*.
CHIP-ENABLED DEBIT CARDS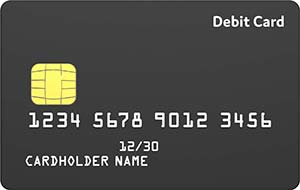 Our debit cards are chip-enabled. The built in microchip provides you with better data security for fraud prevention and purchase protection. The chip's security enables a unique one-time code for each individual transaction making it extremely secure and virtually impossible to duplicate or replicate.
HOW TO USE
Insert your card face up into the chip reading terminal. Leave your card inserted until the transaction is complete.
Read the information carefully. Follow all prompts on the screen. You may be prompted for your PIN* or signature.
Remove your card from the terminal when prompted, you may hear some beeping sounds when your transaction is complete.
* Your PIN number will need to be setup when you activate your card. To activate your card you will need to contact the phone number provided on a sticker that arrives with the card and input some credentials. If you did not receive a sticker or are having trouble activating the card you will need to contact customer service @713-596-2813 for assistance.
YOU CAN SET ALERTS FOR:
All card activity
Turn debit card on and off anytime
Spending limits
Transaction type location services
Card status changes and fraud alerts